Fidel Castro's Illness
Has Impersonators
Scrambling to Adapt
In Miami, Mr. Calderón Does
El Jefe's Voice Perfectly;
New Role for Brother Raúl
By JOSÉ DE CÓRDOBA


August 18, 2006; Page A1
HIALEAH, Fla. -- A familiar bearded figure wearing an olive-green hospital gown with stitched-on Comandante epaulettes made a surprise appearance the other day at a party in this overwhelmingly working-class Cuban exile city next-door to Miami. He was greeted with peals of shocked laughter, and shouts of "When are you finally going to kick the bucket, you old bastard?"
"We've come to meet Miami's Cuban mafia on my birthday," rasped Fidel Castro impersonator Eddy Calderón on Aug. 13, when Mr. Castro turned 80 after having survived abdominal surgery. "I've come to tell you of our newest revolutionary triumph: the creation of the New Cuban Man who has a smaller stomach and larger hands than the old model. Smaller stomach to eat less, and bigger hands to applaud more."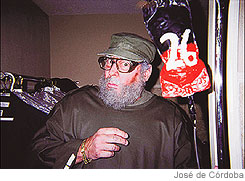 Eddy Calderón as Fidel Castro
Like most Cubans, Miami's small group of Fidel impersonators were taken by surprise when Havana announced that an ailing Mr. Castro had temporarily ceded power to his younger brother, Raúl. Now the comics have worked the succession drama into their acts. The 50-year-old Mr. Calderón, Miami's self-styled Comediante en Jefe, or Comedian in chief, plays Fidel in a wheelchair and trails a long IV tube. Mr. Calderón's mentor, 75-year-old Armando Roblán, has perfected a hoarse-voiced imitation of Raúl, who is also 75, which TV Marti, a U.S.-government television station aimed at Cuba, transmits to the island.
"Raúl's voice is back here, in the throat," said Mr. Roblán, as he paced nervously on the TV Marti set on his first day as Raúl.
The Castro impersonators have their roots in Cuba's lively prerevolutionary tradition of political burlesque, which Mr. Castro stamped out when he assumed power. In Miami, the Castro impersonations become part catharsis, part therapy for Cuban exiles who enjoy laughing safely at the foibles of their long-lived nemesis. Mr. Calderón and Mr. Roblán are considered the city's top impersonators. A third recently retired, while a few journeymen imitators are waiting in the wings.
Mr. Calderón says the work can be risky. Once, he recalls, a woman whose relative had been executed by the revolution hurled a dinner plate at his head. At a recent gig, a tiny, white-haired lady shouted at him: "Why did you ruin the country?" Mr. Calderón, as Fidel, answered that she should thank him because if it hadn't been for him, she'd be stuck in Cuba instead of living well in Miami, "where you can buy hair dye and dentures."
After the Aug. 13 performance, a ballroom attendant, Armando Montes de Oca, approached Mr. Calderón while he was still in his Castro beard and told him: "If I didn't know you were Calderón behind that beard, you would never leave this room alive."
"Thank you," Mr. Calderón replied.
Mr. Calderón has been doing his imitation of Fidel for about a dozen years. He became a local superstar two years ago when a cable-TV channel started weekly broadcasts of a skit called "La Mesa Retonta," or "The Idiots' Table," a takeoff on a weekly "Meet the Press"-style show Mr. Castro has done in Cuba, called "La Mesa Redonda," or "The Roundtable."
Mr. Calderón's Fidel voice is so good that on about 50 occasions, he has telephoned Cuban bureaucrats in Havana or Cuban diplomats abroad and fooled them into thinking they were on the line with the man himself. Mr. Calderón taped the calls, which he still often plays on a Miami radio show.
Two years ago, Mr. Calderón held a 12-minute conversation with Cuba's deputy construction minister, ordering him to build a giant retractable roof over Havana's Latin American stadium, as a way to improve conditions for Cuban baseball players and dissuade them from defecting.
"We need a revolutionary roof to uphold the pride of the Cuban Revolution," said Mr. Calderón during the taped telephone call, in a dead-on imitation of Mr. Castro's edgy, high-pitched, nasal voice.
"I am your unconditional soldier," replied the hapless minister, who promised to get the job done.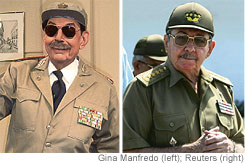 Armando Roblán as Raúl Castro; the real Mr. Castro (right).
That same year, Mr. Calderón telephoned a luxury hotel at Cuba's Varadero beach resort and ordered the hotel manager to provide a week-long all-expense-paid vacation for one of Cuba's leading dissidents, whose movements are shadowed by the secret police, to show the government's good will. Before hanging up, the hotel manager, Mr. Calderón says, promised to make the reservation.
A year earlier, Mr. Calderón as Fidel told transport official Gumersindo Gómez to round up 200 scarce buses for an outing of some 700 priests of the Afro-Cuban religion Santería, and to find room for their sacrificial goats and chickens. Make sure the buses don't have any graffiti saying "down with You-Know-Who," he added.
"Fatherland or death," Mr. Calderón said.
"Onwards to victory," replied Mr. Gómez, according to the tape of the phone call.
A CD of Mr. Calderón's conversations with duped Castro officials, called "Ring-Ring, El Comediante en Jefe Llama," or "Ring-Ring, the Comedian in Chief Is Calling," is a big hit in Little Havana. But in Havana itself, Mr. Calderón complains, he hasn't been able to get anyone in government offices to take his calls for months. He figures the government uses caller ID to guard against his calls.
Mr. Roblán, who is now working on his Raúl imitation, pioneered Castro impersonation in Miami. He says he did his first Fidel impersonations in Cuba in 1959, on a show that praised the Cuban leader, weeks after Mr. Castro's victorious entry into Havana after defeating Cuban dictator Fulgencio Batista.
Twice, recalls Mr. Roblán, caressing old photographs of himself as Fidel and Fidel himself in his memento-filled house, Mr. Castro joined him on stage. Mr. Roblán says Mr. Castro even lent him his official car so he could go to a Havana convention of travel agents in his place. Mr. Castro showed up later. Days later, a stranger approached Mr. Roblán and told him an assassination plot against Mr. Castro that night had been called off at the last minute, Mr. Roblán says.
Things got even spookier, he says, when in 1960, Mr. Castro's secret police asked him to dress up like Fidel and meet with foreign officials. Suspecting another assassination plot, Mr. Roblán declined the invitation. Shortly after, he left Cuba and knocked around Latin America. He ended up in Miami in 1973.
For the first 20 years after Mr. Castro seized power, Miami comics didn't dare do Castro imitations for fear of offending -- or enraging -- Cuban exiles. Then, in 1979, Alberto González, a journalist and satirist, persuaded Mr. Roblán to don fatigues and do the role of El Jefe in a satire called "No Hay Mal Que Dure Cien Años," or "No Evil Lasts One Hundred Years."
The show, a running satire on Cuba, was a big success and was followed by other productions with catchy titles. When the Berlin Wall fell in 1989, giving exiles hope that Fidel's government would soon follow, Mr. Roblán came up with a show called "En el Noventa, Fidel Revienta," or "In 1990, Fidel Will Explode." When that didn't happen, Mr. Roblán, unfazed, changed the name of the show to "En los 90s, Fidel Revienta," or "In the 1990s, Fidel Will Explode."
The last show Mr. Roblán staged, in 2004, reflected Miami's frustration with the Cuban leader's longevity. It was called "Ay Mama, Un Año Más," or "Oh Mother, Another Year!" Now with Mr. Castro's health problems, Castro impersonators are thinking again of a post-Fidel world. Mr. Calderón, for instance, is working on a skit in which an evil scientist gets his hands on some stray Castro cells and clones El Comandante.
"Fidel will dominate Cuba's psyche for many years more," says Mr. Calderón, peeling off his scraggly beard.