Cuba Ends Restriction on Cell Phones
By Marc Frank,
Reuters
Posted: 2008-03-28 19:58:30
Filed Under: World News
HAVANA (March 28) - Cuba said on Friday it will allow all Cubans to buy and use mobile telephones for the first time in the latest step by new President Raul Castro to improve access to consumer goods.
Photo Gallery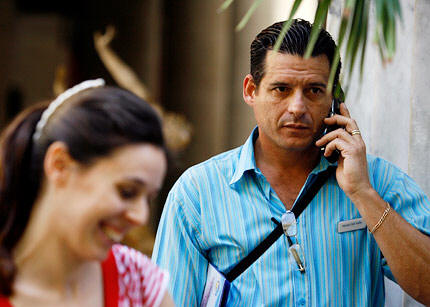 Javier Galeano, AP
'A Change
In Mentality'
Cuba announced Friday that all Cubans will be able to buy and use mobile telephones. Until now, service has been limited to those who worked for foreign firms and certain government officials. "This shows there is a change in mentality at the top and recognition that Cuba has to move into the 21st century," said one Cuban.
Cuba has the lowest rate of cellular telephone use in Latin America and the service has been restricted until now to foreigners or government officials and employees.

Cuban telecommunications monopoly ETECSA, a joint venture with Telecom Italia, said it would begin selling the service to the general public within days in hard currency.

"ETECSA is able to offer mobile phone service to the public," it said in a statement published in the Communist Party newspaper Granma.

Many Cubans have for long wanted access to cellular phones and hoped it would be among the first steps taken by Raul Castro, who succeed his ailing brother Fidel Castro as Cuba's first new leader in almost half a century on February 24.

"This shows there is a change in mentality at the top and recognition that Cuba has to move into the 21st century," a young computer technician said, asking not to be named.

Raul Castro has begun lifting some of the many restrictions on the daily life of Cubans as he tries to meet popular demands for better living standards in the socialist state.

Taking office last month, he promised to start lifting "excessive regulations and prohibitions" within weeks.

Some Cubans already have mobile phones registered in the name of foreigners or their work places. They will now be able to put the contracts in their own names, ETECSA said.

Cubans will be able to buy computers and DVD players next month for the first time, if they have the hard currency to pay for them. Just two years ago, banned DVD players were being confiscated by airport customs officials on arrival in Cuba.

Raul Castro, 76, has also launched a restructuring of agriculture to reduce bureaucratic bottlenecks and boost food production.

A major public complaint that his government will have to deal with is that wages paid in Cuban pesos are too low, while consumer goods have to be paid for in convertible pesos, or CUCs, worth 24 times more than pesos.

Cubans will pay for their mobile telephones with prepaid cards bought in CUCs that will allow them to receive and make international calls.

ETECSA, in which Telecom Italia has a 27 percent stake, said the hard currency income would be invested in the expansion of land lines, where Cuba has the sixth lowest density in Latin American.

About 60 percent of Cubans have access to hard currency from cash remittances sent by relatives living abroad, mainly in the United States, or through factory and farm bonuses and tips from foreign tourists.

In the streets of Havana, the freeing of cellular phones services came as welcome news to all.

"It was an obvious measure. There will have to be more like it to get rid of the thousand and one obstacles that make life bitter in Cuba," said university student Jofre Valdes, 23.

"This was an anachronism. They have to end all unnecessary restrictions," said state employee Humberto VegCuba moves to decentralize state-run agriculture
> >by Marc Frank
> >
> >Reuters
> >03/24/08
> >
> >http://today.reuters.com/news/articlenews.aspx?type=reutersEdge&storyID=2008-03-24T183710Z_01_N24326442_RTRUKOC_0_US-CUBA-REFORM.xml&WTmodLoc=NewsHome_R4_reutersEdge-5
> >
> >HAVANA - Communist Cuba has begun decentralizing the state-dominated
> >agriculture sector in what appears to be the first major move by new
> >President Raul Castro to improve efficiency and cut bureaucracy.
> >
> >At meetings across Cuba, farmers are being told decisions ranging from land
> >use to resource allocation and sales will no longer be taken at the 17-floor
> >agriculture ministry in Havana but at the local level, farmers who attended
> >said.
> >
> >In addition, local municipal offices will be streamlined and will take more
> >into account the activities of private farmers and cooperatives, not just
> >state farms, they said.
> >
> >Cuba watchers say this will provide more leeway for private initiative to
> >raise food output, Raul Castro's top economic priority since he began
> >running the country on a temporary basis in mid-2006.
> >
> >"This represents a major shift from a vertical to horizontal approach and a
> >change in bureaucratic mentality from a national to territorial one," a
> >local agriculture expert said on Monday, like others interviewed asking not
> >to be named.
> >
> >"They are moving decision-making closer to the producers and recognizing
> >that the private sector with just a fraction of the land produces 70 percent
> >of our produce," he said.
> >
> >Cuba's revolutionary leader, Fidel Castro, 81, has not appeared in public
> >since undergoing abdominal surgery in July 2006. He has never fully
> >recovered and his brother Raul Castro, 76, formally took over as president
> >last month.
> >
> >Few Cuba experts expect to see dramatic reforms under Raul Castro, but the
> >new president has begun making subtle changes to the economy that may allow
> >the state-run system to better meet the needs of the Cuban people.
> >
> >In recent decisions, the government freed up the sale of once banned
> >consumer items like computers and DVD players, and it plans to allow farmers
> >to buy their own supplies, such as boots and fertilizer, rather than depend
> >on state purchases.
> >
> >NEW FARMING STRUCTURE
> >
> >In a key speech last year in the central agricultural province of Camaguey,
> >Raul Castro called for "structural" changes in agriculture to produce more
> >food for a nation that relies on imports to feed its people.
> >
> >"We face the imperative of making our land produce more, and the land is
> >there to be tilled," he said.
> >
> >The speech, endorsed by his still influential brother Fidel Castro, was used
> >as the centerpiece for a national debate in factories, neighborhoods and
> >among farmers about Cuba's economic and social problems .
> >
> >The head of an agricultural cooperative in Camaguey said that under the new
> >structure, he would only have to go to one office to resolve problems,
> >instead of many, and officials would no longer be able to shrug their
> >shoulders and say the solution could not be decided locally.
> >
> >"The local office did little more than send our problems up the line because
> >it had no resources or power to solve practically anything," he said in a
> >telephone interview.
> >
> >"What's happening is what the farmers themselves proposed in the meetings,
> >and we feel they have listened and are responding," he said.
> >
> >Cuba has around 250,000 family farms and 1,100 private cooperatives, which
> >represent an island of individual ownership in an economy 90 percent
> >controlled by the state. But together they till less than one third of the
> >land.
> >
> >In exchange for supplies from the state, private farmers must grow certain
> >crops or raise certain livestock, a portion of which they must sell to the
> >government at fixed prices.
> >
> >The remainder of the land is owned by the state. Half of it lies fallow.
> >
> >Last year, the state doubled and in some cases tripled what it pays for
> >cattle, milk and other farm products. Individual farmers and cooperatives
> >are also being offered more land and the government may open up agriculture
> >to foreign investment.
> >
> >"Decentralizing decision-making in agriculture is a clear signal that Raul
> >Castro wants to make the Cuban economy more dynamic and responsive to the
> >Cuban people's needs," said David Jessop, director of the Caribbean Council,
> >a development organization based in London.
> >
> >"It recognizes the need for a revolution in agriculture. By embracing Cuba's
> >private farmers, the Cuban leadership is accepting the possibility and value
> >of alternative models of production within the socialist system," he said.
> >(Editing by Michael Christie and Kieran Murray)
> >
> >
<![if !supportLineBreakNewLine]>
<![endif]>a.