Biotechnological Development under the Castroit Tyranny

By Humberto (Bert) Corzo *

The Castroit regime started its biological program in 1982, and since then has done extensive research and development in the field of bioterrorism for military purposes. Since the early nineties Castro's tyranny has spent $3.5 billion in the development of facilities to be used in the "Bacteriological Warfare." This research is conducted, among others, in the Center for Genetic Engineering and Biotechnology (CIGB), the most important one, created in 1986, La Habana, at a cost of $150 million; the Finlay Institute, remodeled in 1994 at a cost of $10 million; the National Center of Bio-preparations (BIOCEN), inaugurated in February 1992, with a cost of $15 million; Center of Molecular Immunology (CIM) open in December of 1994, with a cost of $10 million; Institute of Tropical Medicine Pedro Kourí (IPK), relocated in 1992 at a cost of $ 12 million. The CIA suspects these facilities are used for developing biological weapons. Cuba has been classified by the State Department as a terrorist nation. Castro's hatred and hostility to the United States represents, without any doubt, a very serious threat due to the proximity of Cuba, just 90 miles from Key West.

The CIGB counts with laboratories for research and production of biological agents. It is enabled with modern equipment and instruments such as fermenters, centrifuges, mass spectrometers, gamma counters, DNA synthesizers, etc. It has a zone for housing laboratory animals, zones of isolation, white and thermal rooms, which are required for the manufacture of biological weapons. The center counts with all the equipment, instruments and facilities to produce biological weapons.

The Finlay Institute main functions are the research and development of bacteria and viruses of tropical diseases such as influenza, dengue, yellow fever, encephalitis, etc. One of the three areas of the Institute is of maximum security, furnished with equipment and instruments for the production of biological weapons.

BIOCEN has developed innovative techniques to obtain culture media from alternative sources of protein. The majority of the most lethal toxins are extracted from fish. This development is vital for the production of biological weapons.

The CIM specialize in the investigation of cancerous agents and the development of toxins, viruses and bacteria highly resistant to known antibiotics. The laboratories are equipped to carry out cell culture, immunochemistry and radiochemical research. In its facilities secret investigations are carried out. The CIM counts with all the elements for the production of biological weapons.

The IKP counts with the most modern equipment for the research and development of biological weapons based on tropical viruses and pathogenic bacteria. The Institute has conducted research on dengue hemorrhagic fever, yellow fever, malaria, etc., All of which can be used as biological weapons.

Dr. Manuel Cereijo has an excellent article on the biological development, "Cuba: The Threat" ((http://www.lanuevacuba.com/archivo/manuel-cereijo-85.htm), which provides detailed information on the more important biotechnological centers.

In areas near the facilities of these centers have taken place epidemics of viral hepatitis, hemorrhagic conjunctivitis and hemorrhagic dengue. The biotechnological research centers are used as a smoke screen for the elaboration of biological weapons.

In the decade of the 80s in the Girón Medical School viral hepatitis caused a certain number of casualties among the physicians and biologists, who were doing research on it, due to improper handling of the virus. Also in that decade were carried out propagation experiments of conjunctivitis and hemorrhagic dengue in the IPK. The "escape" from the institute of fruit flies caused an outbreak of hemorrhagic conjunctivitis in the Siboney neiborghood, where the Institute is located.

In 1994 in an "accident" that took placed in the BIOCEN, who performed experiments with the dengue hemorrhagic disease, thousands of infected mosquitoes "escaped" which caused numerous cases of the disease among the residents of Santiago de Las Vegas. The incident was not reported by the regime control media.

Fidel Castro, on January 28, 1998, in a threat of potential use of germ warfare against the U.S. said: "This lamb can never be devoured -not with planes nor smart bombs- because this lamb is smarter than you, and in its blood there is, and always will be, poison for you."

Chemical Weapons

Chemical weapons use the toxic properties of chemicals substances to kill or incapacitate the enemy. The first installation of chemical weapons had its origin in the chemical industry facilities Quimonor in the province of Matanzas built in 1981. In the tunnels of this facility was carried out the production of Tricothecen or Gas T-2, used in aerosol form (yellow rain) as a biological weapon of war. A few years later a second facility was built in the Sierra del Rosario, near Soroa, in the province of Pinar del Rio, where experiments with mixtures of germs and toxins to produce anthrax are carrying out.

In 1988 UNITA discovered a large cache of Soviet-made chemical weapons in Luanda, and as a result of this, it acquired gas masks to protect itself against an attack with chemical weapons. The toxic gases detection equipments in possession of Cuban soldiers taken prisoners by UNITA forces after the battle of Cuito Cuanavale were of Soviet origin. Previous allegations had been made that Cuban troops had used chemical weapons in Angola in 1984 and 1986.

According to UNITA military intelligence leader General Peregrino Wambu Chindondo, the chemical weapons used by Soviet-supported forces have caused 83 cases of severe respiratory distress, with 38 fatalities. Paralysis occurred in 293 persons, leading to death in 42. General Wambu is currently director of the Higher Institute of Military Education of the Armed Forces of Angola (FAA)

In August 26, 1988, the magazine Jane's Defence Weekly reported that Cuba has used Soviet-made chemical weapons against the Angolan guerilla movement UNITA. The magazine quoted Professor Aubin Heyndrickx, head of toxicology at the University of Ghent in Belgium and a U.N. specialist on biological and chemical warfare, saying that "his evidence is based on environmental samples taken from the Angolan battle zone in April. Soil, leaf and water samples showed clear traces of mustard gas and nerve gases." Recovered bomb fragments with Russian

inscriptions, when testing in Ghent, Belgium, revealed cyanide-containing compounds. The aircrafts were flown by Cuban pilots.

Dr. Heyndrickx, in a letter

replying to questions from Democratic Senator Dennis DeConcini, wrote: "There is no doubt anymore that the Cubans were using nerve gases against the troops of Mr. Jonas Savimbi." He also warned the United States that "if Soviet-Cuban managers in Angola used gas in the past, they could use it in the future."1

Colonel Rolf Hallerbach, NATO correspondent of European Security, said "`It looks as though southeastern Angola is a laboratory for chemical experiments in which UNITA is destined to play the role of rabbits or rats, sparing those who live in `civilized' countries from unnecessary agony."'

West Nile Virus, Biological Weapon used against the Unites States?

Dr. Luis Roberto Hernandez, a Cuban entomologist who defected in 1995, in an interview to El Nuevo Herald on October 18, 1999, asserted that he worked in the Institute of Zoology where the laboratories for the Biological Front were established and that "those were laboratories to identify and produce viruses to be used in birds as 'hosts' for their dissemination." According to Dr. Hernandez, the project continued at a farm outside Havana, where a vast nesting program had been established to study the routes and habits of migratory birds. In the article "Castro Weaponizes West Nile Virus", published in Insight Magazine on September 16, 2002, Dr. Hernandez said: "We were instructed to look into viruses such as encephalitis which are highly resistant to insecticides. Military-intelligence officers running the labs ordered us to trap birds with migratory routes to the United States with the idea of releasing contaminated flocks which would be bitten by mosquitoes which, in turn, infect humans."

These viruses are suitable for inoculating migratory birds that fly to the U.S. in the spring. Obviously it is possible to introduce biological agents like the West Nile Virus (WNV) into the U.S. by way of migratory birds that will transmit it to mosquitoes, and they will spread it to horses, people and other mammals.

According to Carlos Wotzkow, former researcher and ornithologist at the Cuban Institute of Zoology, in exile in Switzerland since 1992, the migratory birds project was proposed by Castro himself and led to the creation of what was called the Biological Front: "An idea to undertake biological warfare against the United States territory through the introduction of viruses of infectious diseases inoculated in migratory birds."2

The WNV first appears in New York in July 1999, after the birds' spring migration. This virus had never been present in North America. John Roehrig of the CDC said, "It is not yet clear how the virus got to New York, but it could be from bird migration or from virus-carrying imported birds that infected the area's mosquito population."

According to Ernesto F. Betancourt there is enough circumstantial evidence of the possibility to select birds to "host" the introduction of viruses, such as the West Nile, in the US, to justify its investigation. One of the important pieces of evidence introduced by Betancourt is this one, "It so happens that Dr. Rosa Elena Simeon is the person responsible for the Biological Front that is developing the capability to wage biological warfare directly under Castro's oversight. She attended the UN General Assembly in 1999, the year of the encephalitis outbreak, a strange diplomatic assignment for an official responsible for science, technology and the environment. More so, upon her return with the delegation to Cuba they were welcomed in person by Castro in an unusual event at Havana University during which Castro made reference "to their historic and victorious battle in the heart of the Empire." Could this battle have been the encephalitis outbreak? Was this a battle won by the Biological Front? Strange wording, indeed."3

During the year 1999, 7 deaths and 59 severe cases of the WNV disease were reported to the Centers for Disease Control and Prevention (CDC) in New York State (http://www.cdc.gov/ncidod/dvbid/westnile/index.htm). A total of 64 severe human cases, including 9 deaths of WNV were reported to CDC from January to December 2001.

Fidel Castro, in an address during the dedication of a social workers school in Villa Clara province on October 16, 2001, warned that, "Today this country has more options than ever, is stronger than ever, and has more weapons than ever to wage the ideological battle -and let's not forget the other (weapons) we have stored away and the very clear idea on how we will use them."

During the year 2002, the CDC confirmed 284 deaths and 2946 severe cases of the WNV disease in 40 states. The spread and number of casualties kept growing, and at the same time the coverage by the main stream news media has been practically nil. Close to 200 species of birds, reptiles and mammals fell ill from West Nile in 2002. The WNV has decimated bird populations. Crows, owls, hawks and blue jays have been hardest hit, with the number of dead birds easily in the thousands, estimate state and federal wildlife officials.

"It's the most unbelievable situation confronting public health in a long time. I'm shocked by how quickly it has spread," says Wayne Rowley, Iowa State University entomology professor, as he talks about the WNV in the Wallaces Farmer, October 22, 2002. "In my years of working, I've never seen a mosquito-borne virus spread so quickly," said Robert McLean of the Agriculture Department's National Wildlife Research Center in Fort Collins, Colo. In North American wildlife, the virus has proven to be unusually aggressive and capable of infecting a surprisingly diverse array of animals, The Atlanta Journal-Constitution, Dec 29, 2002.

Dr. Jonathan F. Day of the University of Florida, entomology expert, said to the

World Net Daily: "The sporadic appearance of WNV is disturbing, especially its appearance in the Florida Keys. It really appears that WN has been seeded throughout the eastern half of the United States. I guess the question is, by whom? The Florida and East Coast situations relative to human cases are remarkable. In some places, Atlanta, the Florida Keys, WNV appeared in humans without any other indication that the virus was present. In some cases, humans are acting as sentinels for the sentinel (animal carriers). This is unlike any other mosquito-borne virus in North America."4

Senator Pat Leahy is the first government official to sound the alarm that the recent outbreak of WNV looks suspiciously like the work of terrorists. Senate Judiciary Committee Chairman Pat Leahy, D-VT, said that he suspects the recent outbreak of West Nile virus that has killed more than 30 Americans across the nation this summer is the work of terrorists. In an interview with WKDR (Burlington, Vt.) radio host Mark Johnson, he said, "I think we have to ask ourselves, is it a coincidence that we're seeing such an increase in West Nile virus. Or is that something that is being tested as a biological weapon by the terrorists?"5

Dr. Ken Alibek, arguably the world's foremost expert on bioweapons and former head of the old Soviet Union's bioweapons program, offers some chilling insights in his recent confidential briefing for NewsMax readers on a new tape, "Off the Record with Dr. Ken Alibek", NewsMax.com, Sept. 28, 2002. He reveals that the spread of West Nile is "one of the most puzzling" matters he has ever witnessed in studying diseases and their epidemiology. Alibek notes that nowhere on the planet is West Nile spreading to the degree it is here. "Why it's spreading so fast throughout the United States?" he asks. Alibek has strong suspicions West Nile is indeed a bio-weapon employed against the U.S.

This is Carlos Wotzkow's description of how the birds are used as carriers of viral infectious diseases, "There are new ICBMs in Cuba. They are new-age Inter-Continental Bird Missiles.... Castro learned that he needed a new weapon that could not be seen in spy photos, so now there are no rocket launchers…These new missiles are very small, have feathers and flap their wings. They have beating hearts and carry deadly, living, biological warheads. They travel unnoticed, in flight paths programmed by nature to chosen targets… As migrating birds arrive in Cuba, some are found with identification leg bands installed by scientists in the United States. These coded leg bands let military bio-weapon scientists know which birds have come from which geographic location, such as New York. When that bird and the birds of that flock return to the United States they will return to New York. Infecting that flock with a disease just before releasing them at migration time in Cuba will result in delivery of the warhead to New York, or somewhere else in route if blown off course… Nowadays it is quite possible to use birds as ICBMs and West Nile Virus as one type of warhead. What could be coming next? How about a genetically altered form of a common disease that would be much more deadly? This is a likely development in the cycle since weapons systems are flight tested before widespread deployment."6

Dr. Cereijo, with respect to the ongoing epidemic of the WNV, states that: "Until 1999, the virus had never been present in the western hemisphere. The appearance and the epidemic sprout that took place in that date in the United States are one of the most important biological events that had happened in connection to viruses in the 20th century…The virus in the United States is encountering a whole new ecosystem. Everything is unfamiliar to the virus-the weather, the climate, many of the birds, and in spite of that, it has spread over the country. The virus displays a variety more resistant than the original virus, giving rise to think that it has been genetically altered."7

Because birds are the primary carriers of the virus, there is nothing to really stop its spread to other states, and the WNV epidemic has been spreading like wildfire. The fast spread of the virus and number of casualties strongly point to bioterrorism

A total of 13,135 of severe human cases, including 1204 deaths have been reported to the CDC from January 2001 up to December 13, 2011. The severe case-fatality rate average associated with WNV is at 9.2% since the virus was introduced on the United States. This is an unusually high percentage since normally it shall be below 3%. The epidemic has all the characteristics of a bioterrorism attack. A total of 27,115 human cases, including mild and severe cases, have been reported to CDC from January 2001 up December 13, 2011.

The virus has been found in more than 300 species of birds since it first surfaced in North America according to CDC reports (http://www.cdc.gov/ncidod/dvbid/westnile/birdspecies.htm). Crow´s population has declined 45% since the introduction of the virus. The virus also has been detected in at least 40 species of mammals, reptiles and amphibians.

During the year 2003, 264 deaths and 2860 severe cases of WNV were reported to the CDC in 46 states. In 2003 also were reported 192 cases of SAR and no fatalities in the United States. The SAR epidemic gave rise to widespread coverage by the mass media that led to the publication of 750 articles in the New York Times and the Washington Post. The anthrax attacks in 2001 caused only five deaths, but received a wide coverage by the mass media. Inexplicably both cases received ample coverage, but not the WNV epidemic.

Since 2001 the WNV epidemic has killed more than 1,200 people, an average of 110 deaths a year. The WNV statistics have received very little coverage. What could be the reason that the mass media behaved in that way? It seems to be a deliberate effort by most of the mainstream media to hide such information from the public. Certain number of experts and journalists have claimed that Cuba does not have the resources or the ability to develop biological weapons technology. After 53 years they continue to use ideological blinders with regard to the Castroit military tyranny. They are sympathetic to the regime because of their liberal vision and ideological affinity, choosing which stories to report and how to report them with biased information, causing the majority of people who depend mainly on the mass media for their news to be aware only one side of the story.

The most serious manifestation of the WNV infection is a deadly inflammation of the brain in humans and horses. There is a vaccine for horses but not people. The young and persons over 50 years of age have the highest risk of contracting the severe disease. Ongoing studies of neuroinvasive cases show some patients suffer "lingering neurologic problems months or even years after the initial disease." Experts believe WNV has become an endemic seasonal epidemic in North America, which flares up in the summer and continues well into the fall.

Despite the high proportion of human victims, the effects of WNV on wildlife have been far worse. It has decimated bird populations across the U.S., with the number of dead birds easily in the millions. The birds have been dying at such a rate that wildlife officials can't test them fast enough and determine how many birds have been stricken.

Indeed, the epidemic has so resembled a bioterrorism attack that the nation's zoos, which spearheaded an effort to track West Nile's march and mount emergency vaccinations, could end up with potentially important roles in the emerging arena of homeland security. The spreading of the WNV, besides the loss of human life and public health impact, had a substantial ecological and economical impact.

The collections of the dots and their subsequent connection provide conclusive evidence, the famous smoking gun, of the introduction of a low level biological weapon, the WNV, to test the delivered system and the impact in human, animals, ecology and economy, by a terrorist nation. After the system has become operational, it will be stored away. This will be follow, in due time, by a surprise strike with the introduction of a more deadly biological weapon that will cause high human fatalities and severe disruption of the economy.

The Mysterious Deaths in the Castroit Regime

The use of toxic substances, radioactive and carcinogenic chemicals in the Castroit prisons have caused lethal disease among political prisoners.

Carlos Alberto Montaner published an article title "The Bulgarian Treatment"

(

http://www.futurodecuba.org/bulgarian_treatment__carlos_albe.htm

)

, where it refers to the possible use of radioactive isotopes to kill political prisoners.

Montaner narrates that in 1978 a young Cuban biologist deserted in the Barajas airport. The next day he repeated to Montaner the following story he had told the police: "he was coming from Sophia, where Zhivkov's sinister political police had given him special training on how to induce cancer on adversaries who were slated for elimination by unsuspicious means. He called it the Bulgarian treatment. "The simplest way, he told me, is to place a radioactive isotope on the target's favorite chair -- he already talked the Security Service jargon -- or in a jacket he wears frequently, or in his mattress, or the car seat. After a few months, chances are good that a cancerous process will begin in his mediastinum (central compartment of the thoracic cavity)."


Dr. Gabriel Soto Cuesta, political prisoner in very good health who was serving a sentence of 9 years, after his detention in Villa Marista, general headquarters of the repressive operations of the regime, developed very rapidly cancer of the esophagus, and was denied the required medical treatment dying in 1977 at the age of 77 after two years in prison.

Sebastián Arcos, professor of Odontology at the University of Havana, and one of the founders of Cuba's human rights movement, was arrested in 1992 and sentenced to 4 years and 8 months in prison, where he was systematically denied medical attention. A vigorous international campaign undertaken by France Libertes, achieve his freedom in 1995. A few weeks after its release, Sebastián was diagnosed by a doctor (friend) with a malignant tumor in the rectum, which he developed during his time in prison. This forced him to leave Cuba and travel to Miami for medical treatment. In 1996 he testified before the Human Rights Commission of the UN in Geneva, Switzerland (http://www2.fiu.edu/~fcf/bergnes.html), where he said: "Or the Cuban government recognizes itself guilty of criminal negligence in my case, or it recognizes itself guilty of an attempted premeditated homicide against my person. Out of the group of 6 political prisoners liberated by the Cuban government after the requests of France Libertes, only two enjoyed good health. In addition to my own case, Reinaldo Figueredo has cancer in his vocal chords, Luis Enrique Gonzalez Ogra has pancreatic cancer, and Ismael Salvia Ricardo is nearly blind." Sebastián passed away in Miami in December of 1997 at 65 years of age.

According to Montaner is very probable that the cancer have been induced to Sebastián Arcos in the Cuban prison where he was serving a sentence for his political rebelliousness. His prison guards liked to boast about it. They warned Leonel Morejón Almagro: "We are going to put you in the cell occupied by Sebastián, to make you sick with cancer like him."


The Castroit regime affirmed that Laura Pollán, leader of "The Ladies in White" 63 years old, died of a heart attack on October 14, 2011. Nevertheless the doctors who treated Laura in the Calixto Garcia hospital confirmed that she had dengue type 4. Pollan's daughter specified that she was affected by the dengue and the respiratory syncytial virus (common cold).


According to Fidel Castro the dengue had been eradicated from Cuba, declaring victory in the military-style campaign carried out for its eradication during a ceremony in 2002. . In the following article, "THE DENGUE EPIDEMIC IN CUBA" (http://www.lanuevacuba.com/archivo/humberto-corzo-1.htm), I do a brief historic outline about the dengue, and criticized the hypocritical attitude of the Castroit tyranny trying to hide the facts. To this day, the dengue has continued causing deaths in Cuba.

(http://www.cubanet.org/noticias/disponen-otro-centro-medico-para-enfermos-de-dengue/).

The health system in Cuba is

under the control of the Castroit regime. Under this health system

no one can sue for malpractice or medical

negligence. Those hospitalized are completely vulnerable, since the system can do or to do not anything with regard to treatment. As you can deduct this creates a great opportunity for the regime to get rid of political opponents and make it look like a natural occurrence.

Dengue has an incubation period of 3 to 14 days. The most common symptoms of the illness are fever, weakness, headache, nausea, vomiting, muscle and joint pains. On September 24 Laura was pinched in the right arm as can be seen in the photo. On October 3, eight days after the attack, she experienced chills, vomiting and joint pains. The next day she went to the hospital Calixto Garcia, was examined and was told she was fine. She developed breathing problems and extreme weakness, went to hospital again on October 7 and was hospitalized. Only his daughter was allowed to see her on October 10, and it wasn't until the 12 that the dengue type 4 infection was confirmed by doctors. Her health deteriorated during the period that she remained under the state medical care. Laura died on the 14.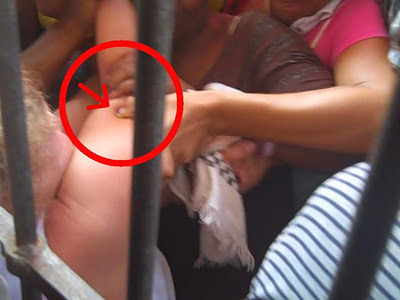 Photo taken from inside the house by the independent journalist

Hector Julio Cedeño Negrin.

Based on the previous events,

there is no doubt that her death was caused by the dengue type 4, whose diagnosis after her hospitalization took 5 days. Dengue has become endemic in the island since 1977. The doctors were not able to recognize early symptoms of dengue, which began to emerge since October 3, in order to proceed with the adequate treatment. It's very unusual that there weren't other cases of dengue in the municipality where her house is located, since it is a virus transmitted by the mosquito Aedes aegypti. Isn't Cuba a "medical power" according to the regime propaganda machine? If we connect the dots, the result points to a premeditate murder disguised as a mortal illness.

During recent years

several Ladies in White and dissidents have reported similar punctures. Mercedes Castillo received a puncture on November 20, 2009 during an act of support for journalist Reinaldo Escobar. Three other women, Sara Marta Fonseca, Caridad Caballero and Mayra Morejón received similar punctures on December 10, 2009, during a walk of the Ladies in White in celebration of the Human Rights. Rita María Montes de Oca on August 18, 2011 also was punctured during a peaceful march, and on October 16, three other Ladies in White, Anne Betancourt, Montes de Oca and Sara Marta Fonseca were punctured during the Sunday walk to the church. All of them reported having suffered some of the symptoms experienced by Laura Pollán.

Laura Pollán is not the first and unfortunately will not be the last victim of the Castroit regime. The "Cuba Archive" has an ongoing report about the female victims of the Castroit regime. Until 2003 the number of death stands at 216. Link:
http://cubaarchive.org/home/images/stories/truth%20and%20memory/female_victims.pdf
We cannot forget the thousands of Cubans that without due process have been executed, imprisoned, perishing trying to escape in make shift rafts, forced into exile, since the reign of terror of the Castro brothers started 53 years ago.
The bravery of the "Ladies in White" shall be recognize as a triumph of the human spirit, supported and celebrate outside of Cuba. Not to do so, will encourages the regime to keep attacking them with impunity.
Conclusion
Bioterrorism expert Mark Osterholm, director of the Center for Infectious Disease
Research and Policy (CIDRAP), told NBC's "Today" Show on September 24, 2001, that
United States is unprepared to deal with attacks with biological weapons. "We live in a new world order, biological weapons have been developed and will be delivered," he said.
"We're talking about the difference between what we saw in New York City, where it was a horrible situation with more than 5,000 fatalities but the [medical] system wasn't overwhelmed because there were only 4,000 or 5,000 wounded people," he said. "Imagine now 100,000, 200,000, 300,000 people presenting for medical care in the New York medical system. That's what biological weapons can do and that's what we as a nation are largely unprepared to deal with."
Dr. Manuel Cereijo describe this feasible scenario, "A biological attack, such as with small pox, so as to infect some 50,000 primary cases (and 150,000 secondary within two weeks, 450,000 within 4 weeks, and so on) result in almost everyone here being exposed and 30% dying among the infected. This would threaten the survival of the United States and even of world civilization."7
Castro's regime will use any means at its disposal like lethal force, kidnapping, blatant blackmail, provide safe haven to terrorists and U.S. fugitives, maintained ties to other state sponsors of terrorism, traffic of illegal drugs and money laundering to achieve his
objective against the United States and its way of live.
On a press release from Agence France-Press in Iran on May 10, 2001, Castro made it clear his objective when said, "Iran and Cuba, in cooperation with each other, can bring America to its knees. The U.S. regime is very weak, and we are witnessing this weakness from close up." This is a serious threat, and it would be tragic for the people of the United States if Castro is not stopped in his tracks very soon. Castro's regime is an asymmetric military threat to the security of the United States.
Now that Castro's regime is near its end, we have to take into account what the late Cuban writer Guillermo Cabrera Infante, said, we have to believed the old Chinese proverb: "The worse of the dragon is in the tail", alluding to the fact that in its agony can whip around and smack us at any moment.
The American way of life has survived many challenges and has emerged as one of the most powerful and symbolic in the world. The time has arrived to cut out and obliterate the cancer of terrorism. Our way of life will survive and will be victorious in this just cause one more time. Let it be clear that Castro's tyranny is one of the governments that encourage, provide safe haven and train a number of terrorist organizations that commit these evil acts. This menace shall not motivate fear, nor discourage us due to the apprehension of an attack; on the contrary it shall be seriously considered by the Executive Power, the Congress, the news media and the American people, in order to take the appropriate measures to eradicate this threat.
References:
1. Rowland Evans and Robert Novak, "Cuban Troops In Angola Said To Use Poison Gas", February 6, 1989 (
http://www.fortfreedom.org/y19.htm
).
2. Carlos Wotzkow, "Natumaleza Cubana", Miami: Ediciones Universal, 1998.
3. Ernesto F. Betancourt, "West Nile Virus: Is Castro's bioterrorism threat being ignored?" Guaracabuya, September 2001 (
http://www.amigospais-guaracabuya.org/oaget003.php
).

4. WorldNetDaily.com, "Terror link to West Nile?", August 11, 2003 (
http://www.wnd.com/news/article.asp?ARTICLE_ID=34020
)

5, Carl Limbacher, Sen. Leahy: "West Nile Outbreak Could Be Terrorism", News Max.com, and Sept. 12, 2002 (
http://www.freerepublic.com/focus/news/749699/posts
.)

6. Carlos Wotzkow and J.A. Kemp, "ICBMs in Cuba: Today's Threat", La Nueva Cuba, October 24, 2002.
7. Manuel Cereijo, "El virus del occidente del Nilo: ¿Naturaleza o bioterrorismo?", Diario Las Américas, Agosto 16, 2011.
*Humberto (Bert) Corzo was born in Cuba. In 1962 he graduated from University of Havana with a degree in Civil Engineering. Since coming to the United States in 1969, he established his residence in Los Angeles, California, where in 1972 he obtained the registration as a Professional Engineer. He has over forty five years of experience in the field of Structural Engineering. He is a Member of the American Society of Civil Engineers and the Cuban-American Association of Civil Engineers.